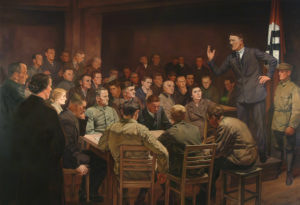 Painting: "Am Anfang war das Wort." ("In the Beginning was the Word.")
Artist: Hermann Otto Hoyer
Year: 1937
German artist Hermann Otto Hoyer painted this famous picture in 1937, which featured in that same years Exhibition of German Art, depicting a messianic Hitler mesmerizing an audience with his oratory in the 1920s.
Description
Hitler stands on a dais in a dark room speaking to fellow citizens during the initial Kampfzeit of the National Socialist Movement. Behind him is an Sturmabteilung member with the National Socialist flag. Hitler is the glorification of the National Socialist idea heightened into religion almost by the title alone. The light over him falls on the listener. Hitler is the bringer of light, the illuminator, saviour and liberator.
Hitler bought the painting for the planned art gallery in Linz. This painting was reproduced in thousands of postcards and art magazines.
https://de.metapedia.org/wiki/Hoyer,_Hermann_Otto
http://galleria.thule-italia.com/hermann-otto-hoyer/?lang=en
https://cambridgeforecast.wordpress.com/2007/08/14/john-toland-book-with-hitler-painting/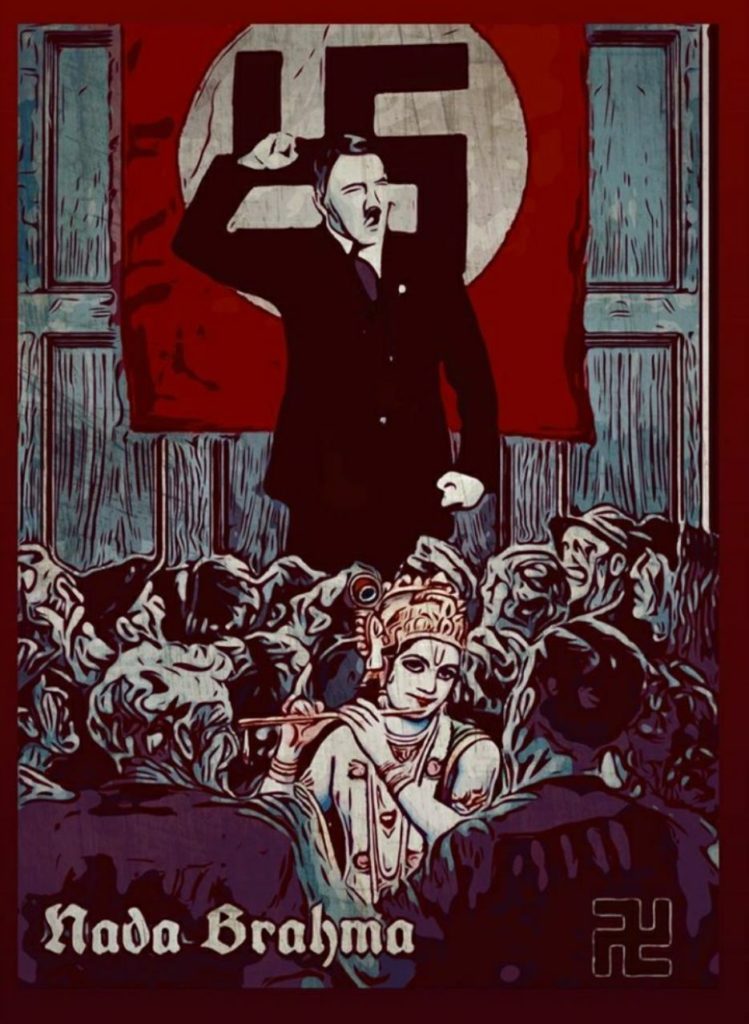 The below image, know contemporarily as "The Victory of the Word" is actually Der Tag von Potsdam (The Day of Potsdam) 21.3.33 (1937) by Richard Lindmar depicts "Hitler during his speech on the 'Day of Potsdam', 1933. Contemporary drawing of Reich Chancellor Adolf Hitler's speech on the 'Day of Potsdam' in the Garrison Church during the State ceremony, 21.03.1933." Potsdam, Brandenburg, Germany.
Click image to enlarge.